Choko Noisette heart cookies
0 person likes this recipe persons like this recipe
Preparation tips
- 250 g flour
- ½ sachet baking powder
- 125 g soft butter
- 150 g brown sugar
- 1 sachet vanilla sugar
- 1 egg
- 100 g chocolate chips
- Chopped hazelnuts
- Choko Noisette spread
- A little earlier, take out the butter so that it is not too cold.
- Preheat the oven to 180°C
- Mix the flour and baking powder
- Cut the butter into pieces and beat in a food processor (or by hand if you don't have one, you can knead it all together)
- Add the brown sugar and vanilla sugar
- Mix again
- Add the egg and work the mixture into a smooth dough using a spatula or food processor.
- Add the hazelnuts and chocolate chips and mix again
- Form each cookie into two small balls and then flatten into a disc (you can also do this with a cookie cutter)
- Place the first disc on a baking tray with baking paper, place a spoonful of Choko Noisette spread in the middle then cover with the second disc and press lightly on the edges (be careful to space the cookies well as they will take up more space as they bake).
- Repeat for each cookie
- Bake for 15 to 20 minutes at 180°C (monitor depending on your oven).
NOISERAIE PRODUCTS
USED IN THIS RECIPE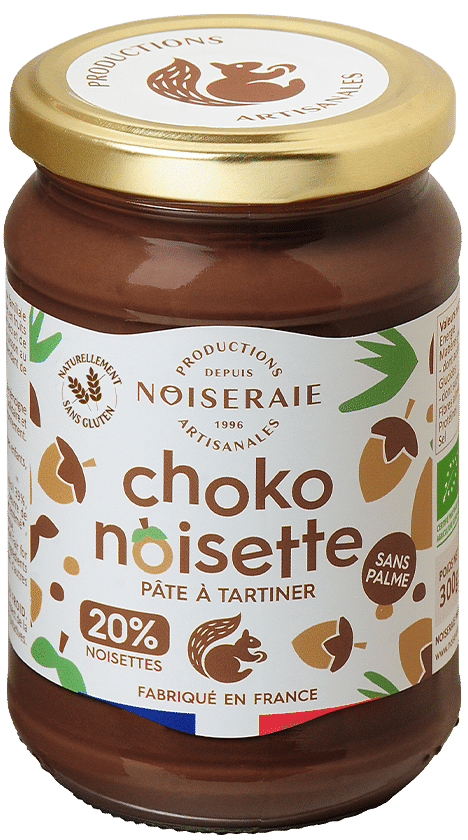 CHOKO NOISETTE
PALM FREE